Special Event Flowers in Houston, TX
Occasionals Events isn't just the preferred event planning company in the Houston, TX area, we also provide exquisite flower arrangements. Our professional florist will transform any event space into a truly magical place! Because we have access to an on-site florist facility, we can ensure that we use only the freshest flowers. Flowers for all of our events are handled in-house and never outsourced.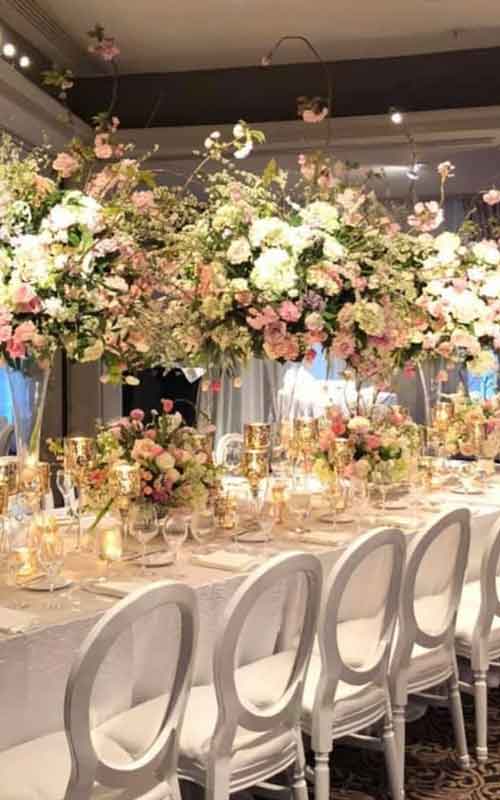 Custom arrangements created for your event
Because all of the arrangements for our events are designed by our professional florist, we can work with you to create the custom arrangements that perfectly capture the mood of your event. Custom flower arrangements are an effective way to give your event a special and unique feel. You won't have to worry about droopy or dying flowers when you work with Occasionals Events and our dedicated, in-house, floral designer!
If you want to create an atmosphere at your event that sets your event apart from the pack, carefully chosen flowers can make this happen. One of the main benefits of working with an event planning company that has its own professional florists is that your imagination is the limit when it comes to flower arrangements. If you have a theme in mind and want special flowers used in your arrangements, we can deliver that. Or, if you aren't sure exactly what you want, we can work with you to find the right combination of flowers to get your desired effect.
Design and decor can help to sell the theme of the event, and flowers are a huge part of making this magic happen. If you want to ensure that your event has beautiful flowers that will complete your design and decor aspects, custom flower arrangements are the way to go. Fresh flowers take decor to the next level, adding visual interest and scent to the event space. This creates an atmosphere that activates the senses and gives your guests a lovely experience.
Give Occasionals Events a call today to learn more about our floral services and schedule your free consultation.
Let's get started planning your next Houston area event! If you want the best for your next event or special occasion, you want to work with Occasionals Events. Emily Escobar and her team have the expertise and experience necessary to create luxury events that will be the talk of the town. Call today!